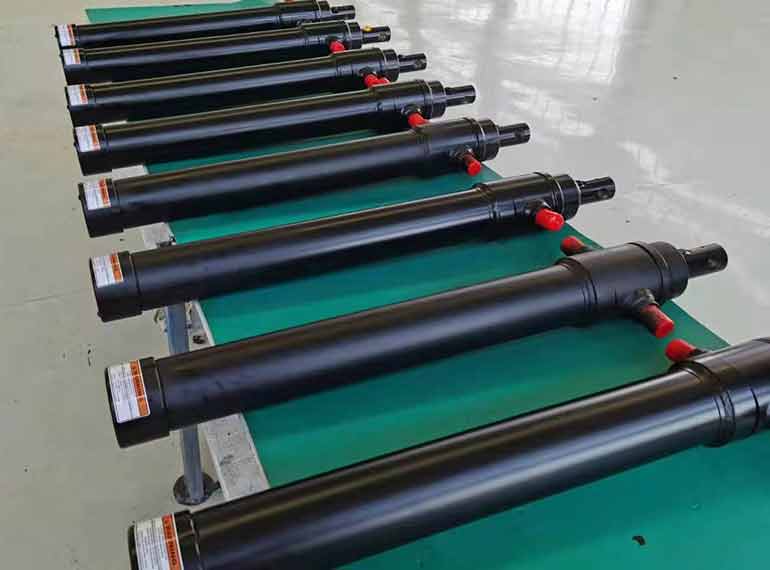 Product Detailes:
Name: Construction Vehicle Hydraulic Cylinder
Place of Origin: China
Brand Name: Datong
Certification: ISO9001:2008
 Anbao as one of the leading construction vehicle hydraulic cylinder manufacturers and suppliers, We has been supplying and exporting  machinery hydraulic cylinder for almost 25 years. Anbao has rich experience designing telescopic for a number of industries and applications and can work with you to design a single acting or a double acting design.
Description
Construction vehicle hydraulic cylinders cover various types of vehicles industries and construction applications. Our experienced engineering team helps you work through design considerations to ensure your cylinder meets your requirements. Choose from the following custom telescopic cylinder design options:
excavator hydraulic cylinders
dump trucks cylinders
tractor hydraulic cylinders
mobile crane hydraulic cylinder
mining machine cylinders and so on
Excavator hydraulic cylinder is divided into boom cylinder, arm cylinder and bucket cylinder. We can provide you with most well-known brands of excavator cylinders and accessories. We provide rebuilt excavator hydraulic cylinders for Komatsu and Caterpillar excavators to customers worldwide. 
1. Material: E355 ST52, CK45, 4140, 42CrMo4, 16Mn(Q345B), ,Stainless Steel 304/316,etc 
2. Technology: Seamless, Cold Drawn ,Hot Rolled,Cold Rolled, Forged 
3. Surface Roughness: Ra 0.2-0.4μm 
4. Choose by different working condition and requirements.

1. Material: CK45, SAE1045, 4140, 4340, JIS45C, 40Cr, 20MnV6, 42CrMo, SS431, SS430, Stainless Steel 304/316/ 
2. Chrome layer: min 20/25/30/50 Micron or customized 
3. Diameter tolerance: ISO f7/f8/f9/h8/h9 or as request
4. Surface treatment: chrome plated, nickel-chromium plated, Q+T, Induction hardened

1. Hallite, NOK, SKF, Parker, Hercules,Trelleborg,China made,Taiwan made 
2. Choose by different working condition and requirements.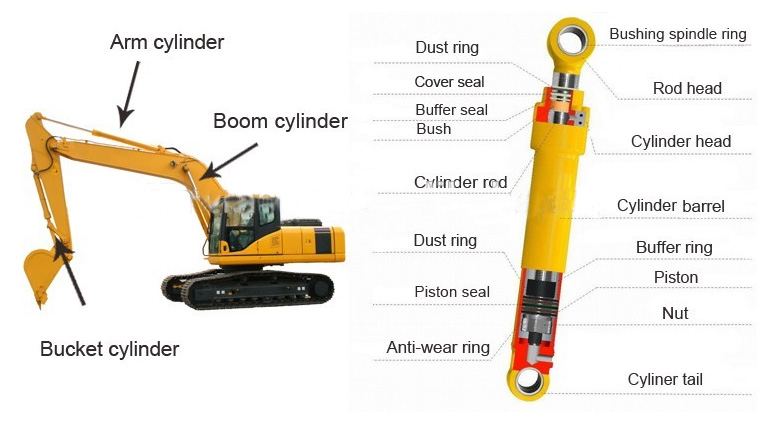 As a professional hydraulic cylinder manufacturer, We provide a full-service package from hydraulic cylinder design to on-time delivery, supported by outstanding customer service. Capabilities of our custom cylinders are as follows:
– Cylinder bore diameter: Customized as per client's request.
– Cylinder rod diameter: Customized as per client's request.
– Cylinder stroke length: Customized as per client's request.
– Operating pressure: Customized as per client's request.
– Hydraulic rod options: Chrome plated, nickel plated, induction hardened, stainless steel rod.
– Mounting options: Essentially any custom flanges your application might need.
– Hydraulic cylinder seals: Seals are made up to the cylinder specs, depending on the cycle usage.
– Cylinder integrations: Check pilot valves, counterbalance valves, solenoid controls, etc.
– Cylinder cushions: Fixed and adjustable cushions, rod and welded sides cushions.
– Paint & finish: Standard, automobile, high temperature options for paint of any color.
– Packaging: From cardboard, boxes, bubble wrap to custom logo & engraving option.
WE ALSO PRODUCE:
Hard Chrome Plated Rod
Hard Chrome Plated Bar
Hollow Hard Chrome Plated Tube
Hollow Hard Chrome Plated Rod
Hard Chrome Plated Piston Rod
Hard Chrome Shaft
Hard Chrome Plated Shaft
Package
Process
Why Choose Us