Datong Group as a professional manufacturer of cylinder tube and cylinder piston rod,We stock the largest range of Honed Cylinder Tubes & Unhoned Cylinder Tubes with imperial size and metric size. These steels are derived from a range of leading manufacturers from China like BaoSteel.
There are key types we stock:
Finished (Honed) Tubes – Honing process / SRB: Skived and Roller Burnished.
Semi-finished (Unhoned) Tubes are Made from ST52 Drawn over mandrel & Cold Drawn Seamless Honed Cylinder Tube: Hot Finished E355.
Advantages Of Datong Group Cylinder Tube
1, High precision tolerances;
Our honed steel tube can meet ID tolerance H7, H8, H9, … etc according to the customer' requirements, and its I.D dimension.
2, Seamless tube with high pressure resistance;
We only use seamless cold drawn tubes to produce honed pipes, which means our honed tubing can work under higher pressure, thus our honed pipes are more reliable for hydraulic cylinder applications.
3, High Smooth inside surface;
The roughness of our honed pipe is Max Ra 0.4 microns ID finish .
4, Good weldability: The weldability of our honed steel tubing is very good, this is quite helpful for manufacturing the cylinders.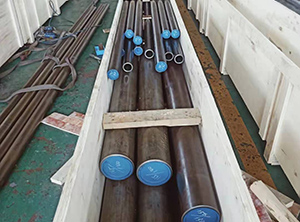 If you need any hydraulic cylinder tube or rods, please feel free to contact us with bellow method.
Contact Person: Mr Andy/Miss Cally
Email: Andy@datong-hydraulic.com