Gas cylinder is a pressure vessel for storage and containment of gases at above atmospheric pressure. High-pressure gas cylinders are also called bottles. Inside the cylinder the stored contents may be in a state of compressed gas, vapor over liquid, supercritical fluid, or dissolved in a substrate material, depending on the physical characteristics of the contents. A typical gas cylinder design is elongated, standing upright on a flattened bottom end, with the valve and fitting at the top for connecting to the receiving apparatus.
34CrMo4 Seamless tubes for gas cylinders,CNG cylinders for Vehicle, gas cylinder for fire extinguisher, etc
Grade: 37Mn, 34Mn2V, 30CrMo, 35CrMo, 34CrMo4, 30CrMnSiA
OD: 30 – 711mm
WT: 3.1 – 38mm
Length: 4 – 12m
Delivery Condition: Without heat treatment, Quenched + Tempered, Normalized + Tempered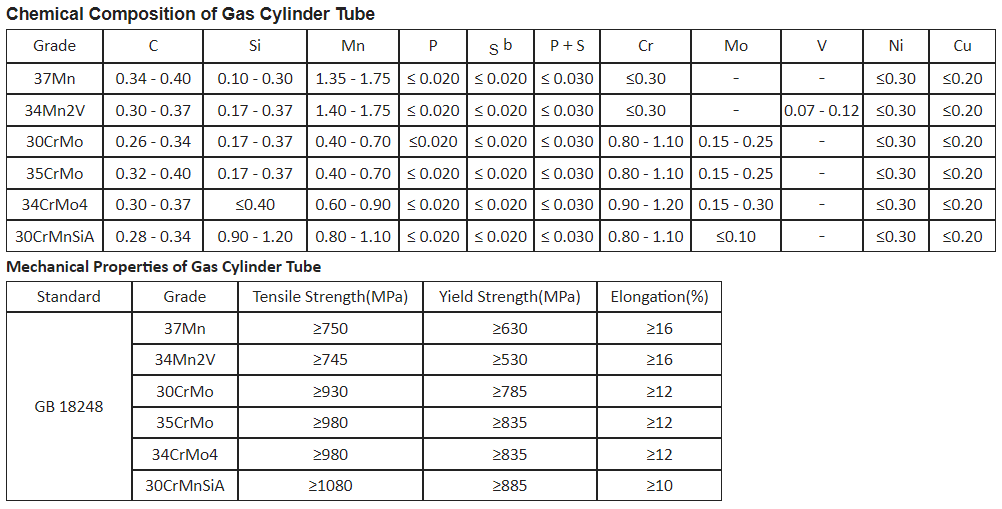 We supply high quality hot rolled and cold rolled seamless steel pipe for gas bottles to clients and is experienced in large size gas bottle. We stock extensive inventory of steel pipes and other pipe fittings, just let us know size and quantity of your need and we can help you find the material that is right for you. Now Contact us for a quote on 34CrMo4 steel pipe.