S45C hydraulic cylinder chrome plated shaft mainly used for hydraulic equipments and construction machinery .
The Quenched and Tempered Shafts are fabricated using quenched and tempered S45C material and latest machinery. The bars undergo rigorous processes like pilling, quenching and tempering, straightening, grinding, polishing, hard chrome plating and finishing under the supervision of experienced engineers.
The mechanical property of the Quenched and Tempered Shafts is better than the Hard Chrome Plated Piston Rods. The Quenched and Tempered Shafts are more qualified under adverse operating environment owning to its excellent mechanical property such as robust construction, elevated durability and high tensile strength.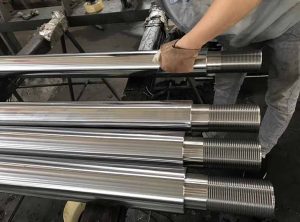 HERE BELOW IS THE APPLICATION LIST OF hard chrome plated shaft:
Hydraulic cylinders (chrome plated piston rods)
Pneumatic cylinders / air cylinders (hydraulic cylinder piston rods)
Guide rods for plastic manufacturing machine and hydraulic machinery
Rollers for machines, such as packing machine rollers, printing machine rollers
Shaft for machinery, such as Textile machinery center axle, Transport machinery center axle, etc.
Ejector rods for injection molding machines
Vibration absorbes and pistons for some industrial machinery.